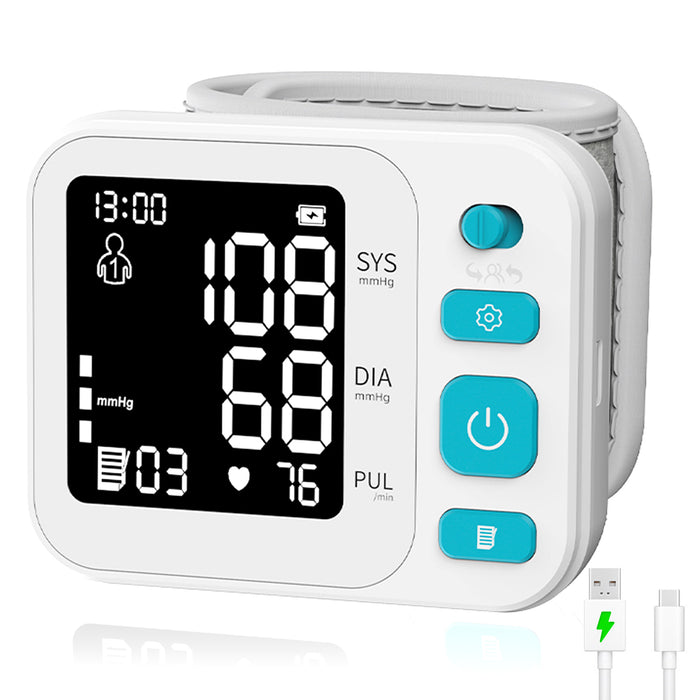 Rechargeable Wrist Blood Pressure Monitor, ELERA Home Use Digital Automatic Blood Pressure Machine for Wrist Measuring BP & Heart Rate with 4 Color Large Display, 2*99 Memory, Carrying Case.
ACCURATE MEASUREMENT - The product has passed FDA certification and has built-in the latest smart chip, providing users with high-precision results of blood pressure ±3mmHg and pulse ±5%.

RECHARGEABLE & Environmental friendly - This product has a built-in high-capacity lithium battery. Using the USB-C charging method, it can be used about 170 times on a single charge. No need to use any dry batteries, more environmentally friendly. It also saves you the trouble of changing the battery.

QUICK SWITCH OF USERS - The physical buttons can quickly switch users, each user can store 99 historical measurement records, and each reading has a measurement time, which is convenient for you to track blood pressure changes.

LCD SCREEN & FOUR-COLOR BACKLIGHT - The BP monitor has clear backlight can be easily read. When the measurement result is not within the normal range, the screen will turn yellow or red, reminding user to pay attention to health.

IRREGULAR HEART RATE ALERT - If an irregular heartbeat is detected, the irregular heartbeat symbol will be displayed to notify you.